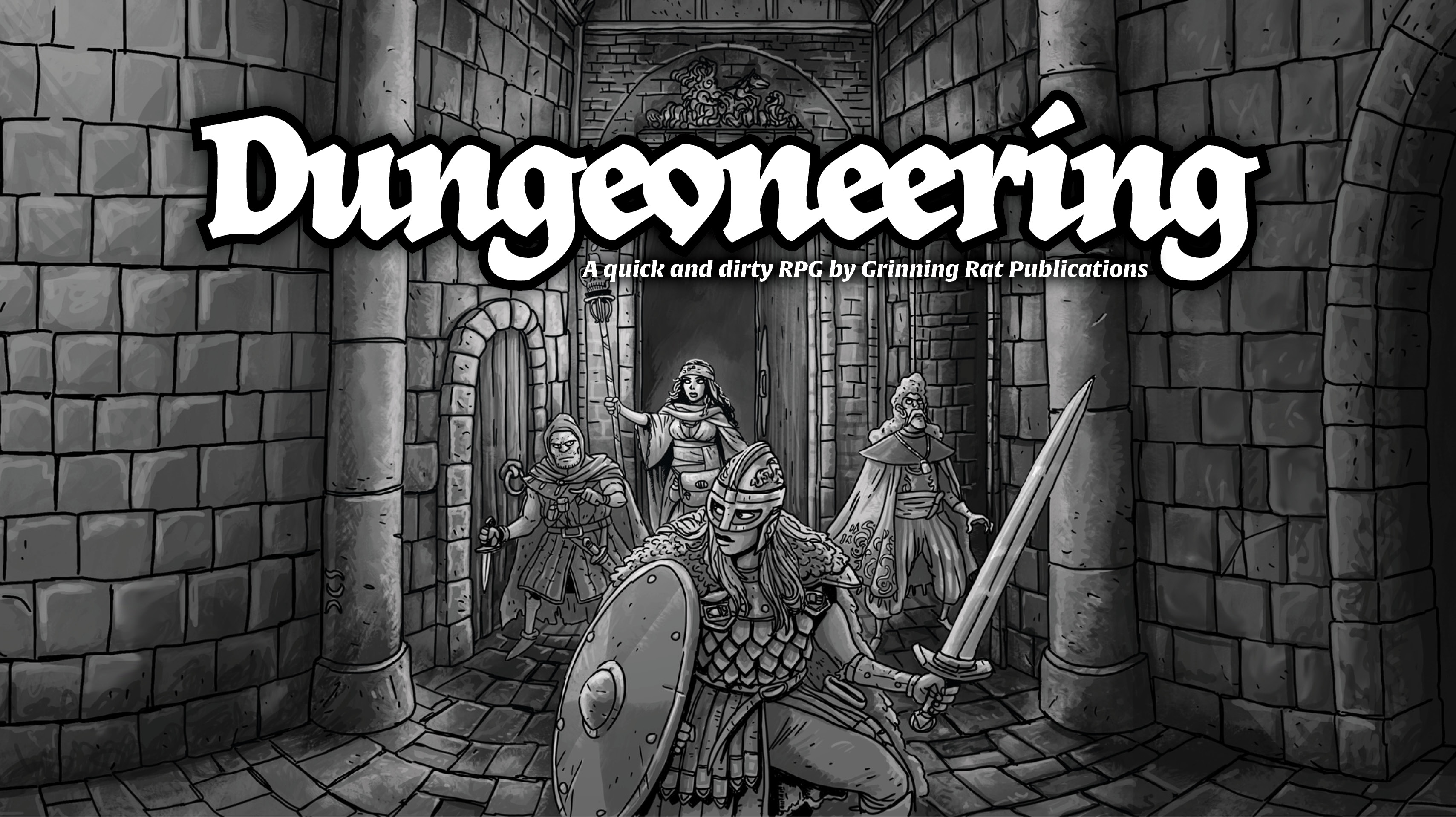 Dungeoneering
Hey there!
I've been working on the fulfillment of the Dungeoneering: Wanderers campaign and I realized that there's probably a considerable amount of folks who have the original Dungeoneering, but didn't back the new campaign. Therefore, there are folks who aren't getting the skinny on what's new with Dungeoneering in 2022 and beyond.
The big news is this: I'm launching a Patreon! And I'll be using it to share both new Dungeoneering content and other early documentation for games I'm working on.
---
Rewards and Benefits
The Grinning Rat Patreon has two main tiers: Questgivers and Adventurers.
You can become a Questgiver by joining the patreon at the $3/month level. This grants you early access to alpha and beta documents for future projects. Currently, there are two big projects I'm working on that I'm excited to start sharing: a new tabletop RPG set in the late bronze-age called Ädamίr, Realm of the Thousand Spheres and a currently unnamed fantasy sourcebook inspired by dark fantasy novels and Elden Ring.
New projects will be added regularly to the list as I work on them. The intention is for these to eventually become printed books you can purchase in their complete state, if everything goes according to plan. They will likely be crowdfunded, but in the case of that happening, patrons will be given a substantial discount if they decide to back those projects at that time.
Alternatively, you can become an Adventurer by joining the patreon at the $5/month level. This gets you everything that Questgivers get, as well as a monthly content drop called a Dungeoneer's Pack. Each pack contains an adventure location that holds a new dungeon, new spells and prayers, new magic items, and new monsters. Each adventure location is centered around a particular theme.
One of the cool benefits of becoming an Adventurer is that you don't have to wait until the end of your signup month to get a pack. By joining at this tier, you automatically receive two free packs: Cult of the Red Wyrm and Undermachinery of Bronze Town. And no matter when you subscribe, you get access to all previous packs at no extra charge.
Want to see a preview of what to expect? Take a look below!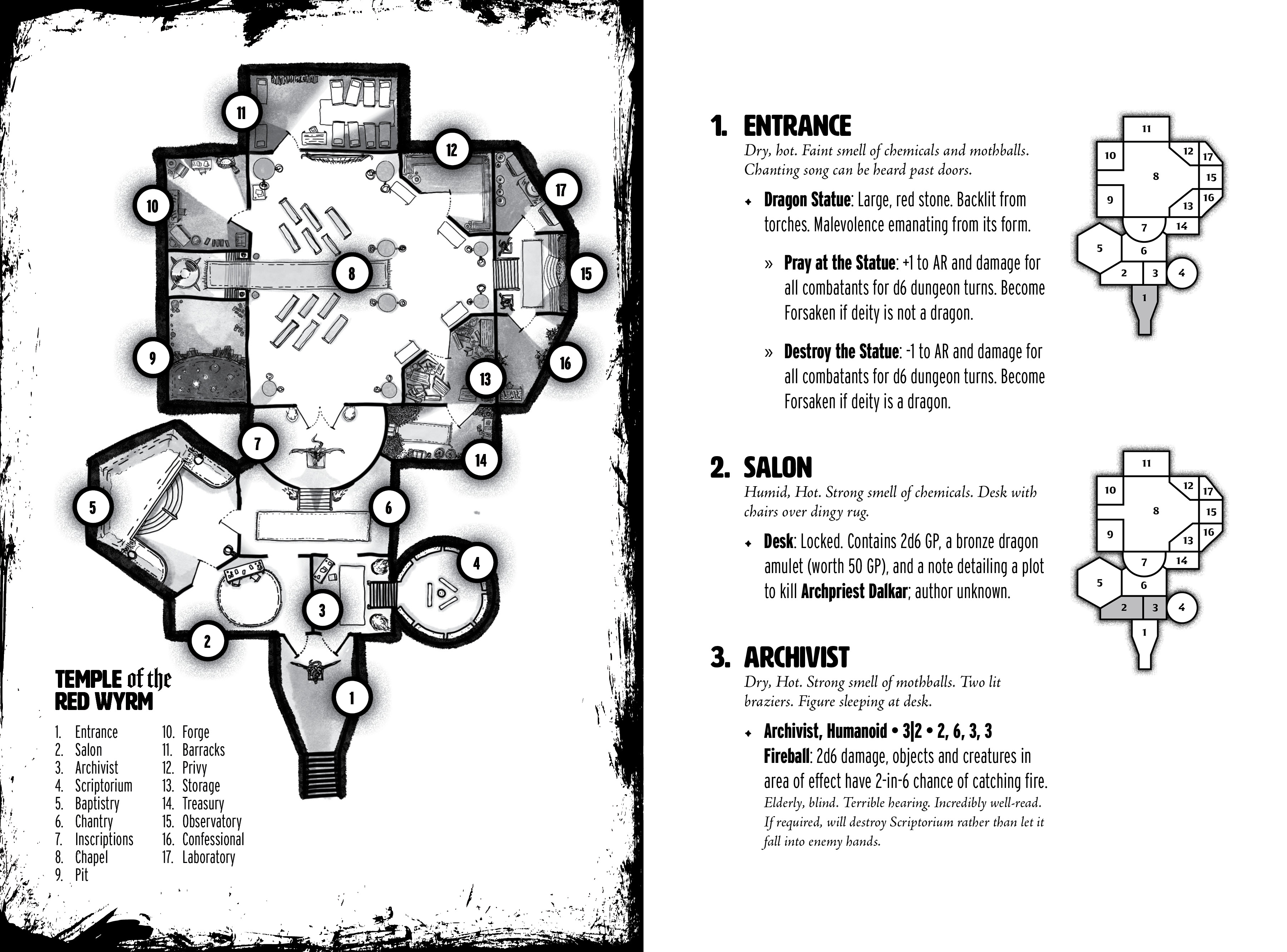 Finally, no matter what tier you join, all patrons will be listed in the credits of every Grinning Rat publication moving forward. Your support is what allows me to continue this work, so it's only fair you're credited whenever and wherever possible!
---
When does it launch?
The Grinning Rat Patreon launches officially on August 19 in tandem with the Grinning Rat Newsletter Issue #2. The third Dungeoneer's Pack, Webs of the Astral Spider, will be released August 31.
Each subsequent pack will be released on the last day of the month.
---
What format do these come in?
All Dungeoneer's Pack files will be delivered via Patreon in PDF format. At some point down the line, we may end up supported EPUB and other digital formats. These will likely not be printed unless there is an extremely high demand for it or some other opportunity makes it cost-effective to do so.
For alpha and beta documents, these will likely be in PDF format or in an alternative format based on interest and experimentation (such as carrd.co or other publishing platforms).
---
I'm interested. How do I sign up?
While the patreon doesn't launch until August 19, you can sign up to be notified when the Patreon launches by subscribing to the Grinning Rat Newsletter.
To do so, head over to grinningratpub.com and click the banner at the top. You'll be given instructions on how to sign up as well as get access to the free Dungeoneering Quick Start Rules PDF. This document covers the basic rules of the game in just 5 pages and includes a starter dungeon you can run with friends (or solo)!
---
That's it for now. Thanks for reading!